First Acts out now!
27.10.2023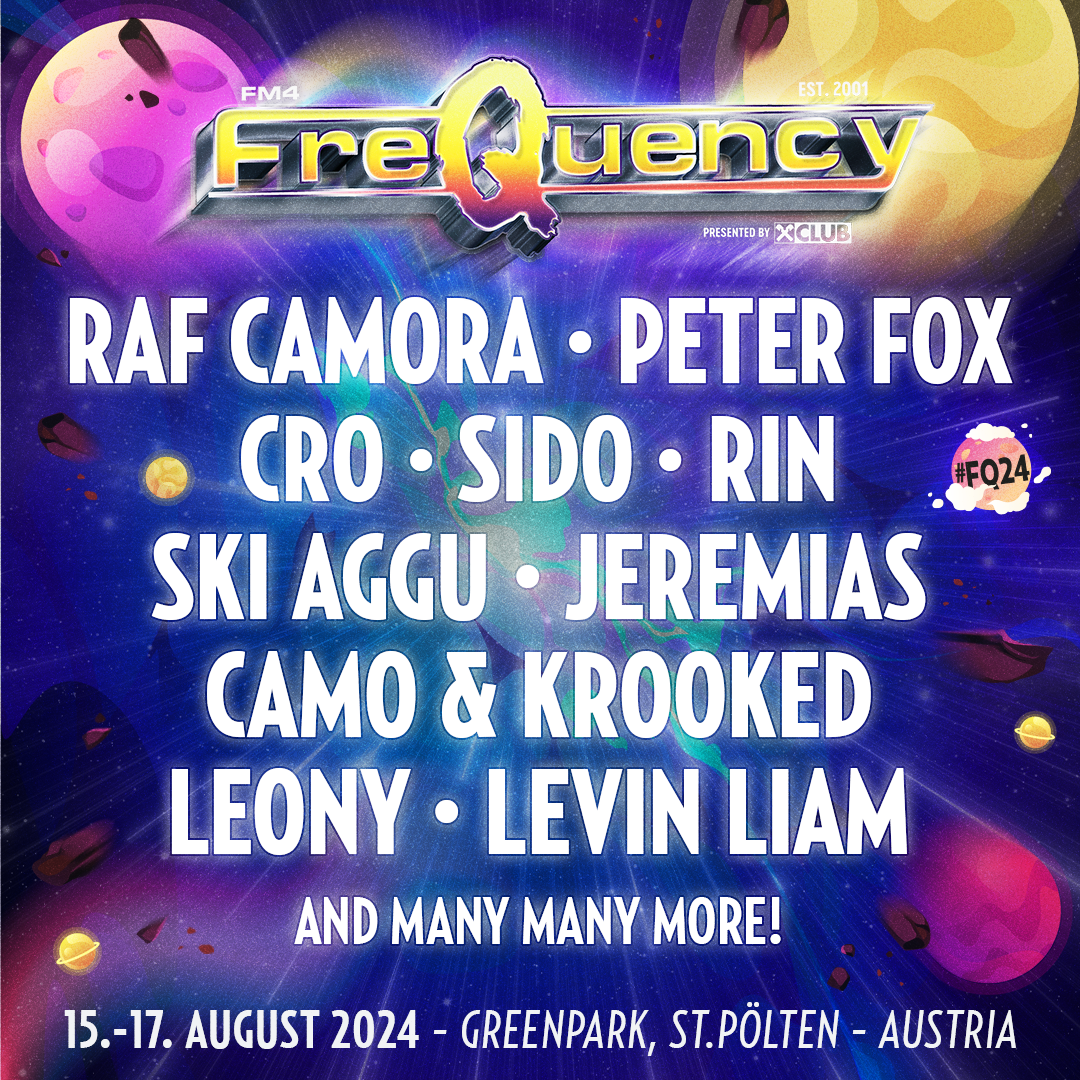 IT'S OUT: These are the first Acts for #FQ24! We got some of your absolute favorites form the past Band-Voting! 🫶 CRO even landet on the first place. 👀
👉 Don't forget: Get your Early Bird tickets until the 30th of October HERE .
Next price stage incoming!
27.10.2023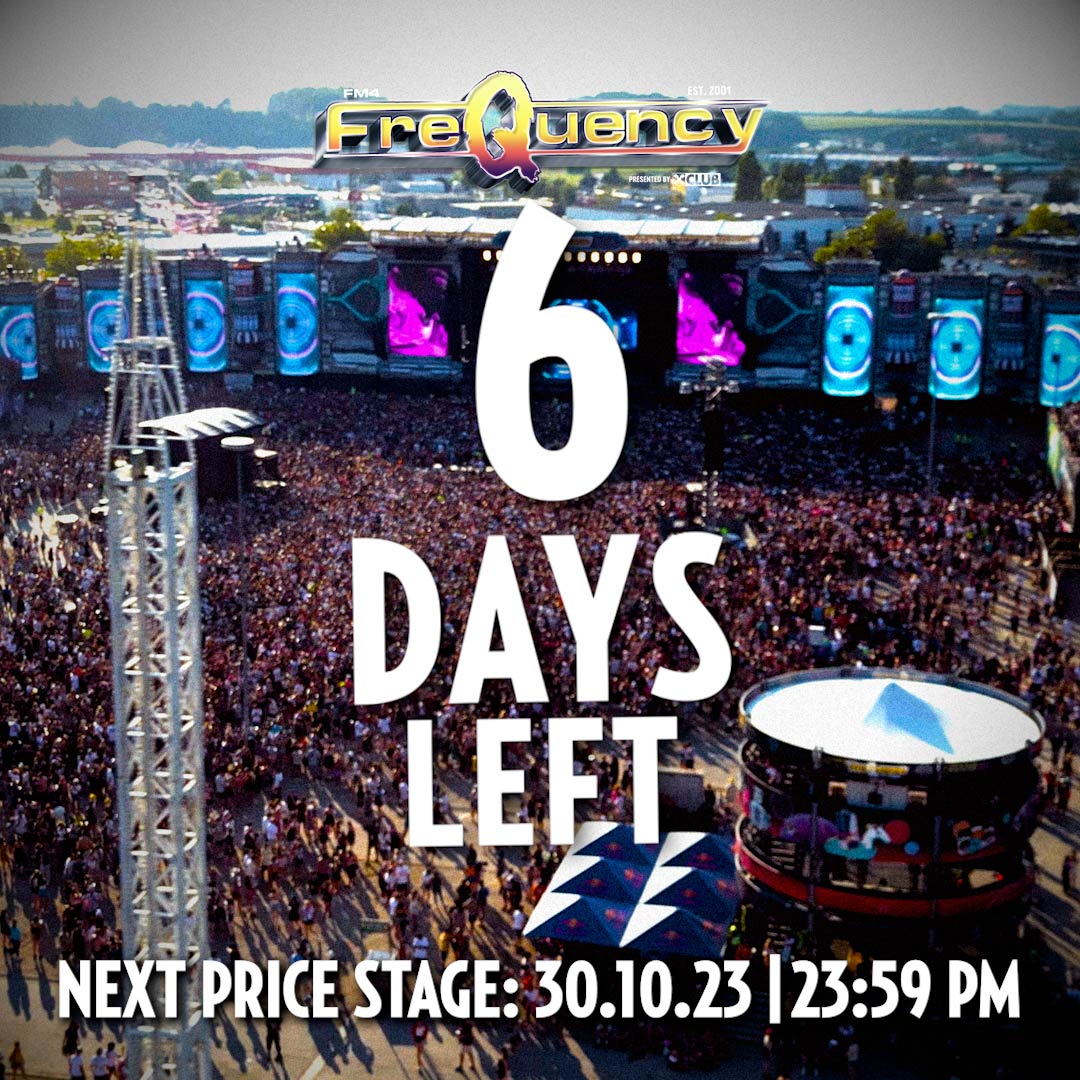 🚨New price stage incoming! Until the 30th of Oktober you have the change to get your hands on our Early Bird tickets! After that the prices will increase. Follow along on our Social Media Channels there will be more NEWS very soon! 🔎!
Get ready: For Early Camping on Tuesday!
27.10.2023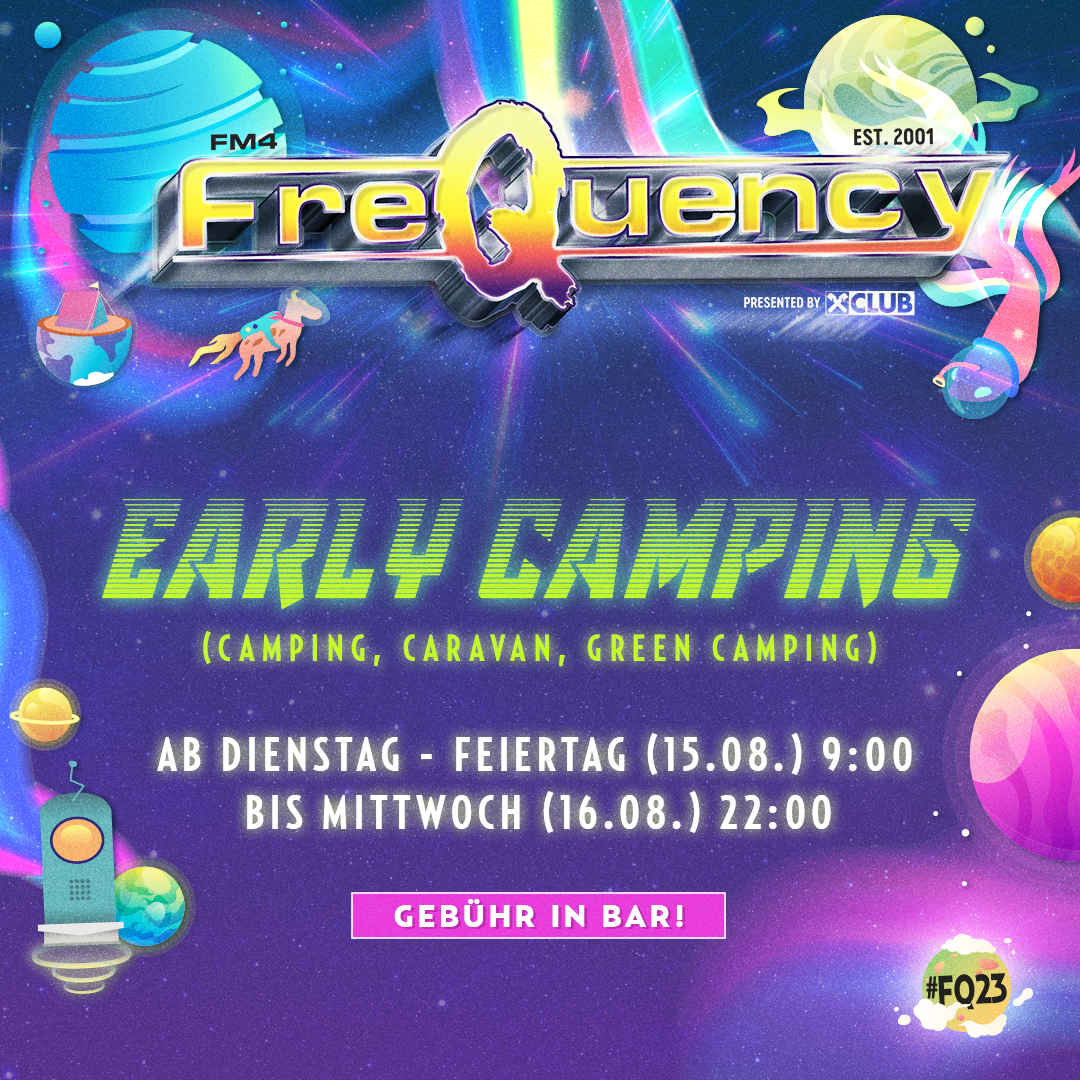 ⏰Don't forget! The Early Camping starts on Tuesday! 
👉We recommend coming as early as possible to get the best spots.
Timetable out now!
27.10.2023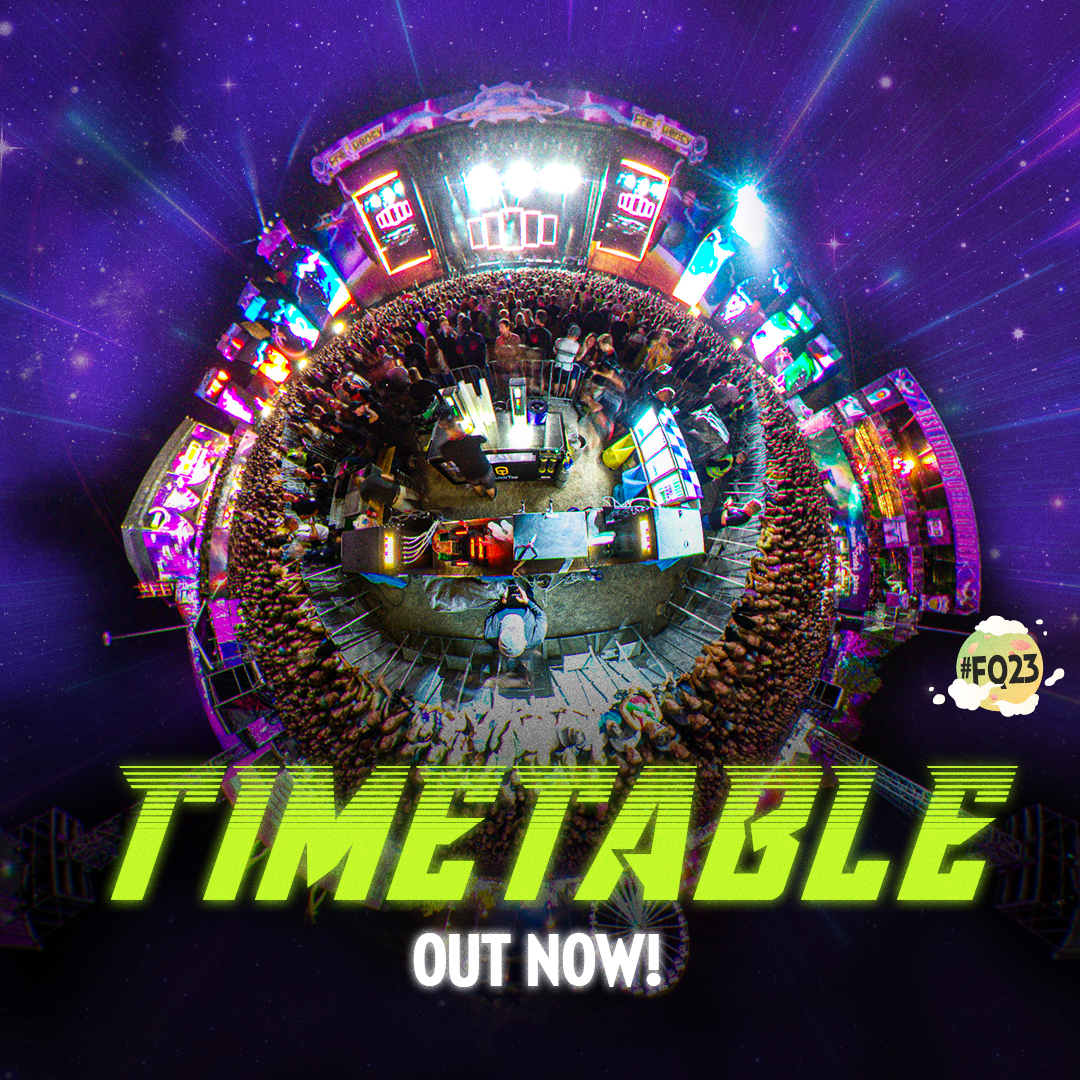 TIMETABLE out now! HERE is the full Download.🪐
Tezenis Secret Island Timetable out now!
27.10.2023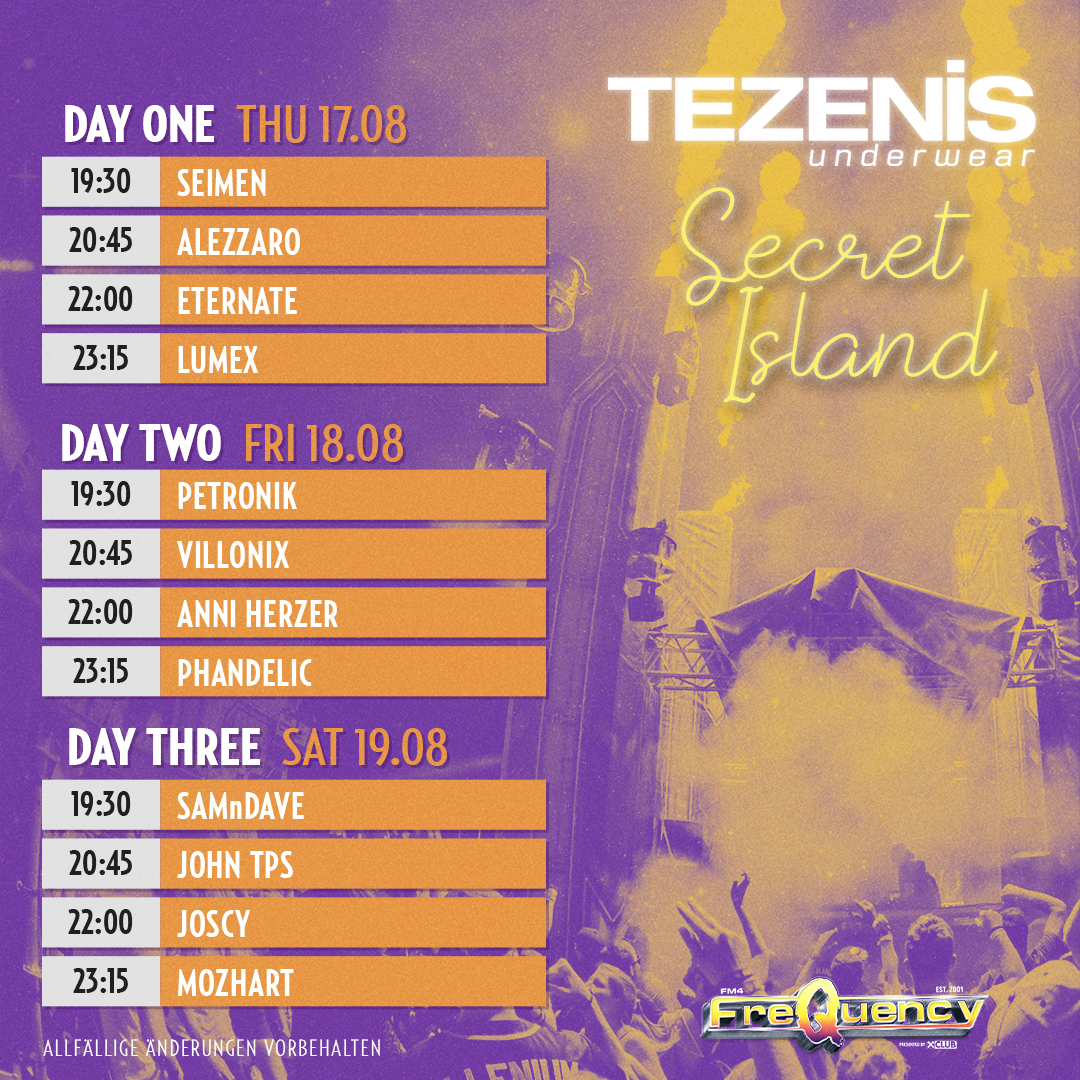 Side Actions like "Techno Yoga" or "Afrodance" by day – Party hard by night! All of that and even more is possible in the "Tezenis Secret Island"!
Queens Brunch Vienna goes Frequency!
27.10.2023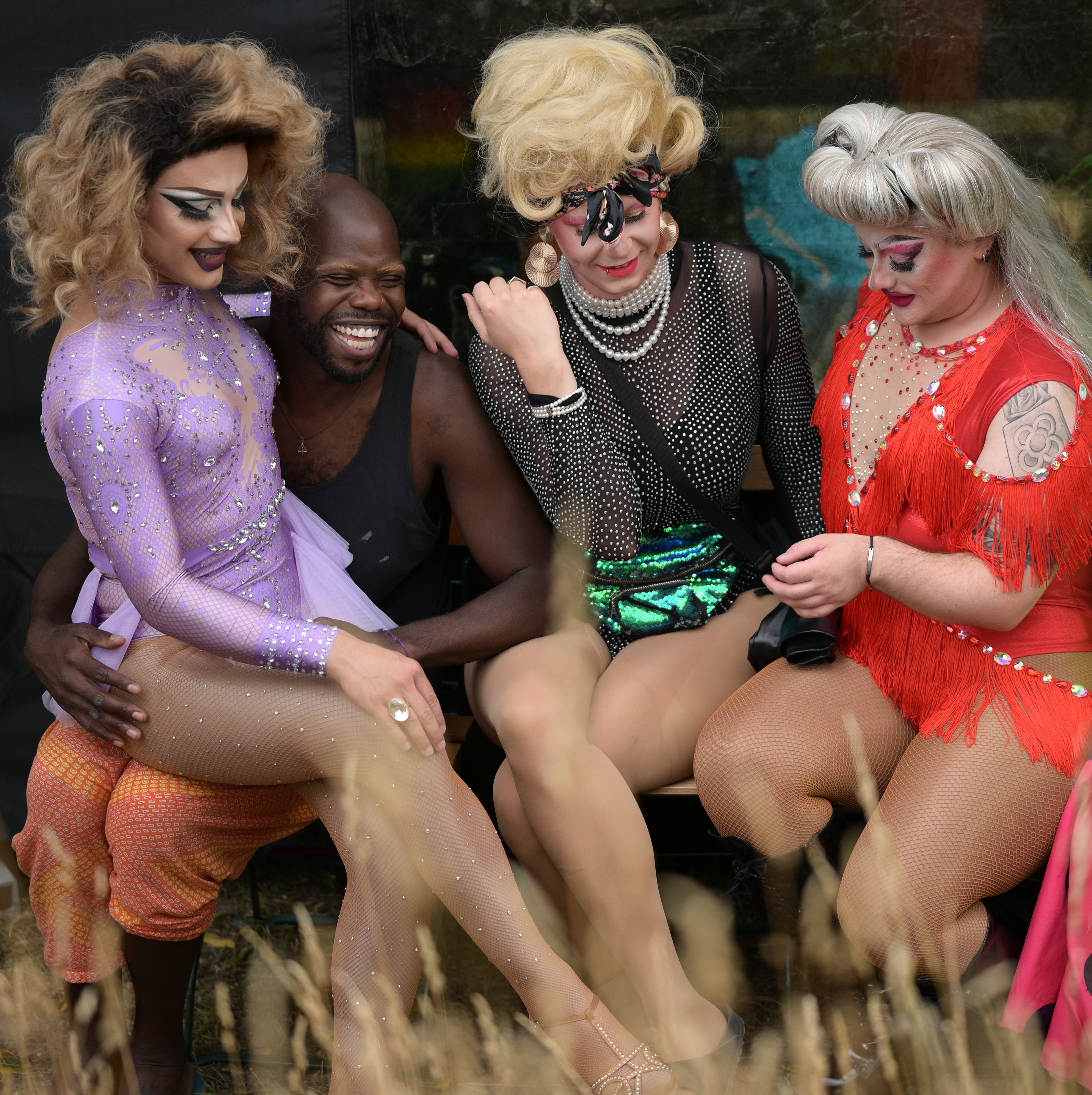 One thing hasn't been missing at Frequency for years: Our various "Side Actions"! From our legendary flunkyball tournament to relaxed techno yoga, these activities make the festival day perfect.
This year there is an exciting new show! The "Queens Brunch Vienna" is coming to us on Frequency. It is Europe's largest drag collective with over 150 amazing performers (including drag queens, drag kings, trans* and non-binary artists) from over 35 countries worldwide. At FQ we will be able to see the "Sensational Six" live: Lola Herself (Portugal), DaDa JV (Taiwan), Miss Mina (Italy), Bonnie Oui Laddie (UK), Dita Von Bill (Serbia) and Madame Lea (Brazil) .❤️
We're really looking forward to it! The shows take place daily from 20:00 – 21:30 in the Flunky Ball Court.
LOW TICKET WARNING!
27.10.2023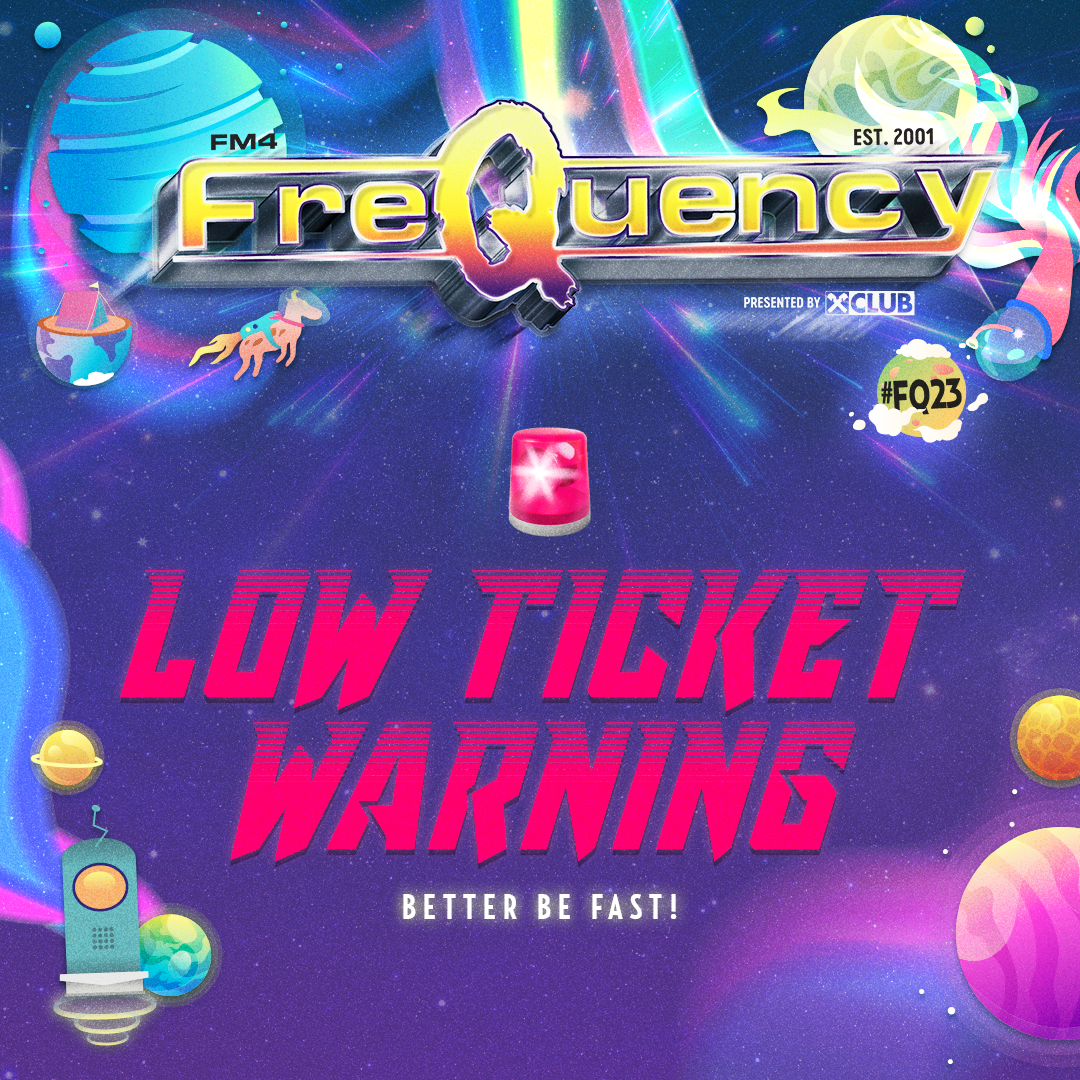 Slowly but steady all ticket categories are running low – get the last tickets HERE
Attention: Tickets are running low!
27.10.2023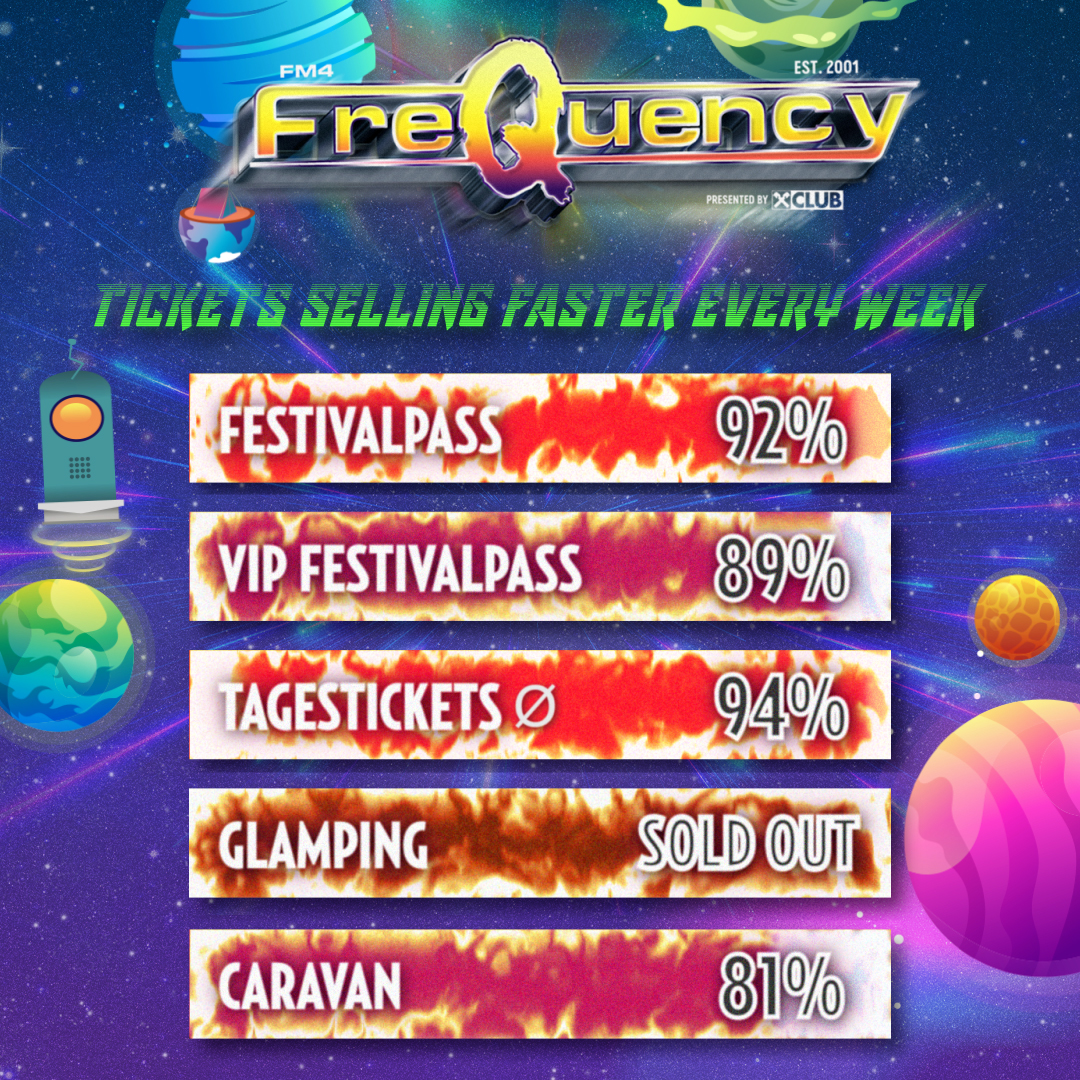 👀 Tickets are selling faster every week – it's time to get your tickets before it's too late!
👉 Last Tickets: HERE!
New Acts confirmed!
27.10.2023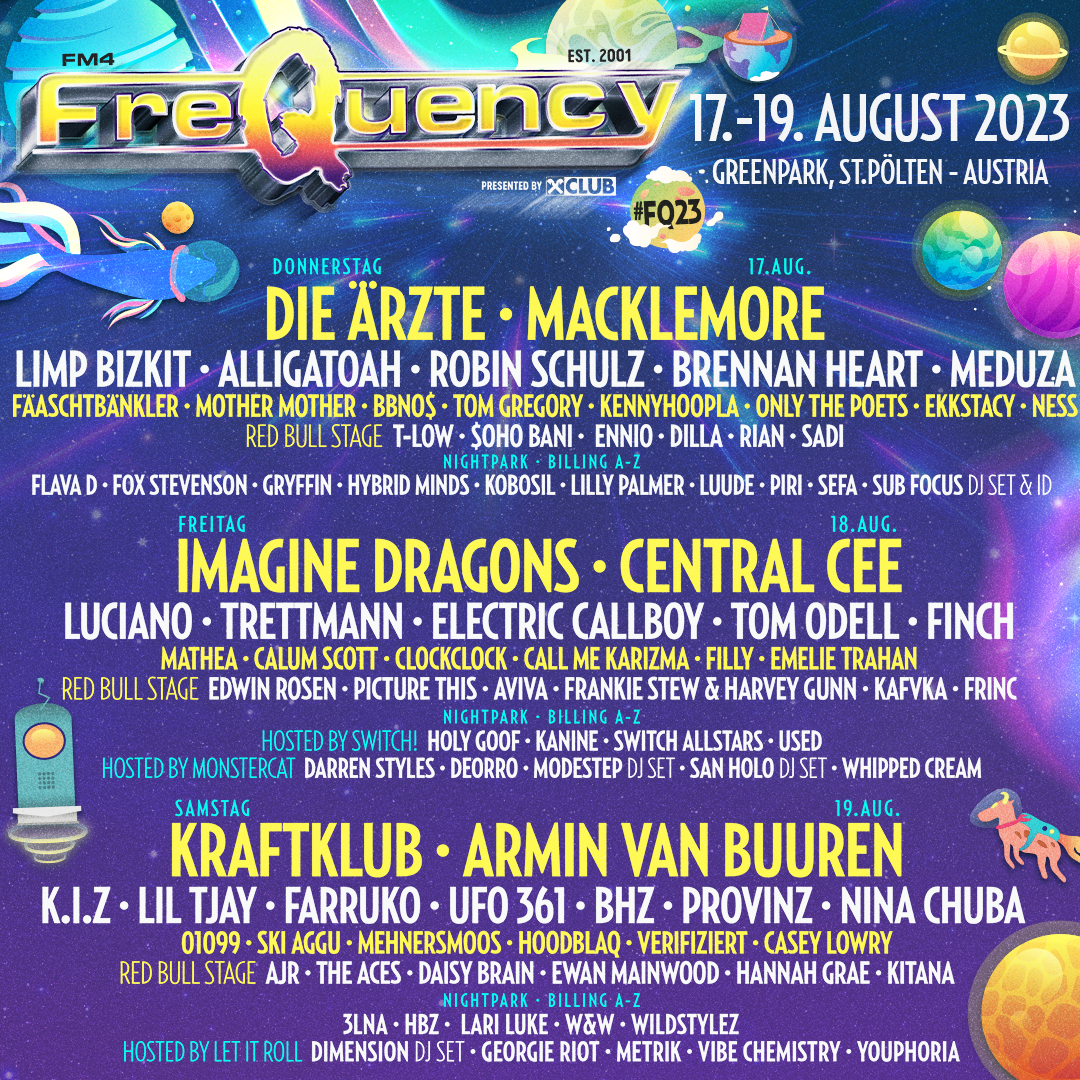 ✨ NEW NEW NEW ✨ – Today we have new acts for you! We got HOODBLAQ, RIAN, EMELIE TRAHAN and 3LNA to reinforce the Planet Frequency.
Unfortunately, BRU-C had to cancel his show at Frequency. We are very sorry for everyone who was already looking forward to him. 😔 Here is the statement:
"Due to personal reasons, Bru-C won't be able to perform at the festival. All teams involved have tried everything possible to make the show work but unfortunately Bru-C won't be able to perform this year. We are really sorry to any fans who have made arrangements to see him and we hope to be back at the festival next year."
Glamping Ticketupdate: FIVER Zelte are SOLD OUT!
27.10.2023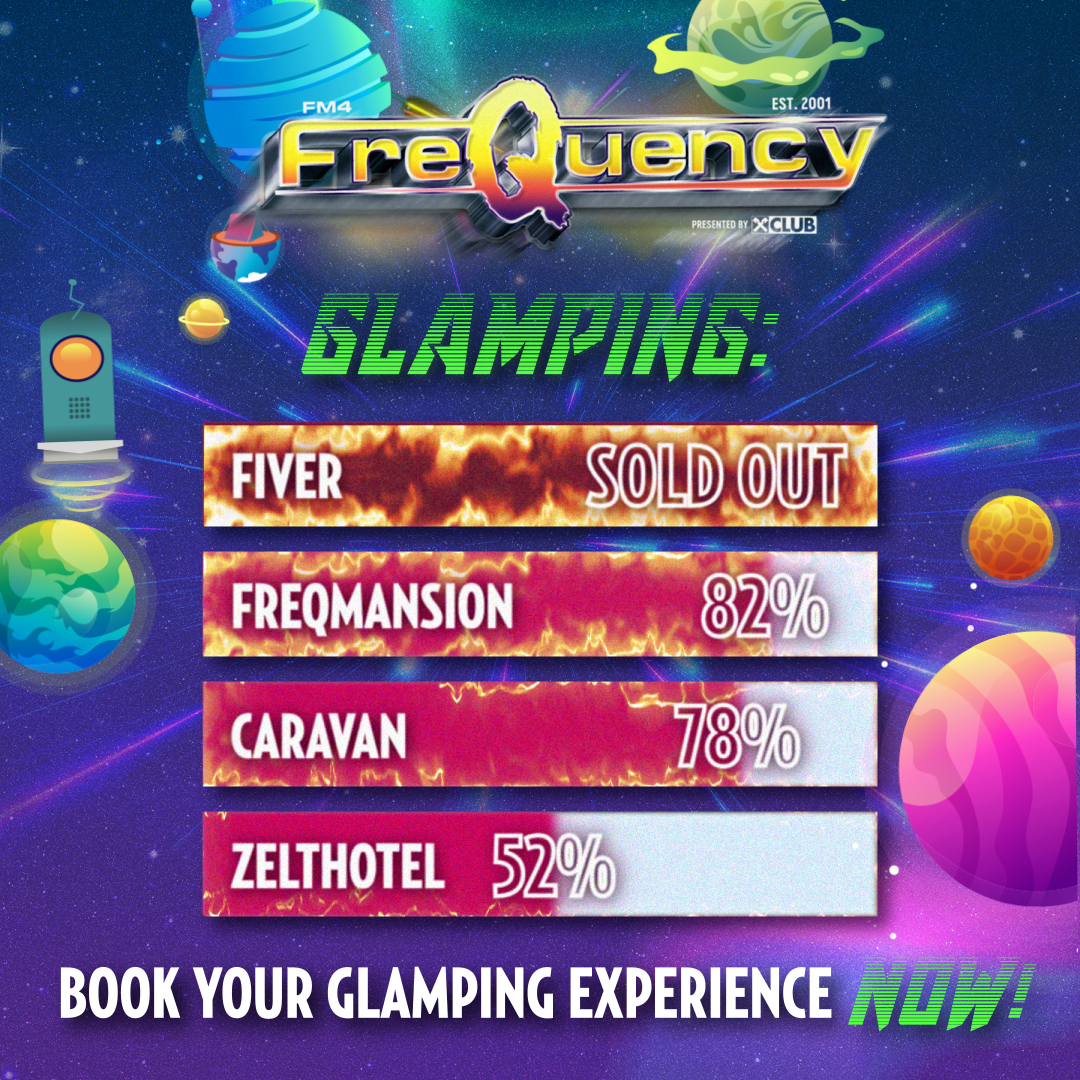 👉 Still thinking about getting Glamping tickets? This is your sign. FIVER tents are SOLD OUT – FREQMANSIONS are almost sold out. Be quick and get the last tickets HERE. 🔥