Venue
Area Map 2019 – Full View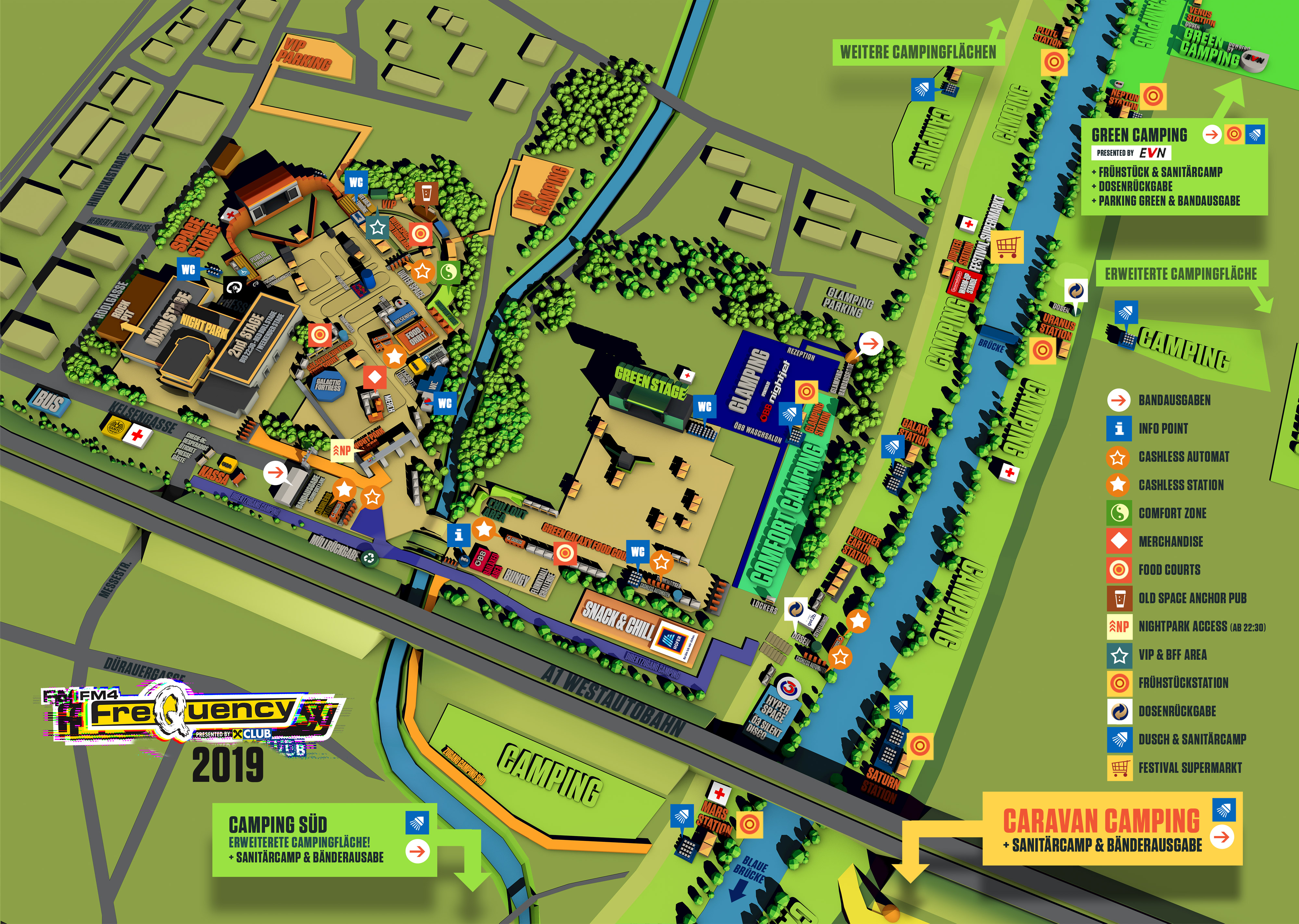 The Area Map for 2021 will be available early summer 2021
Camping Plan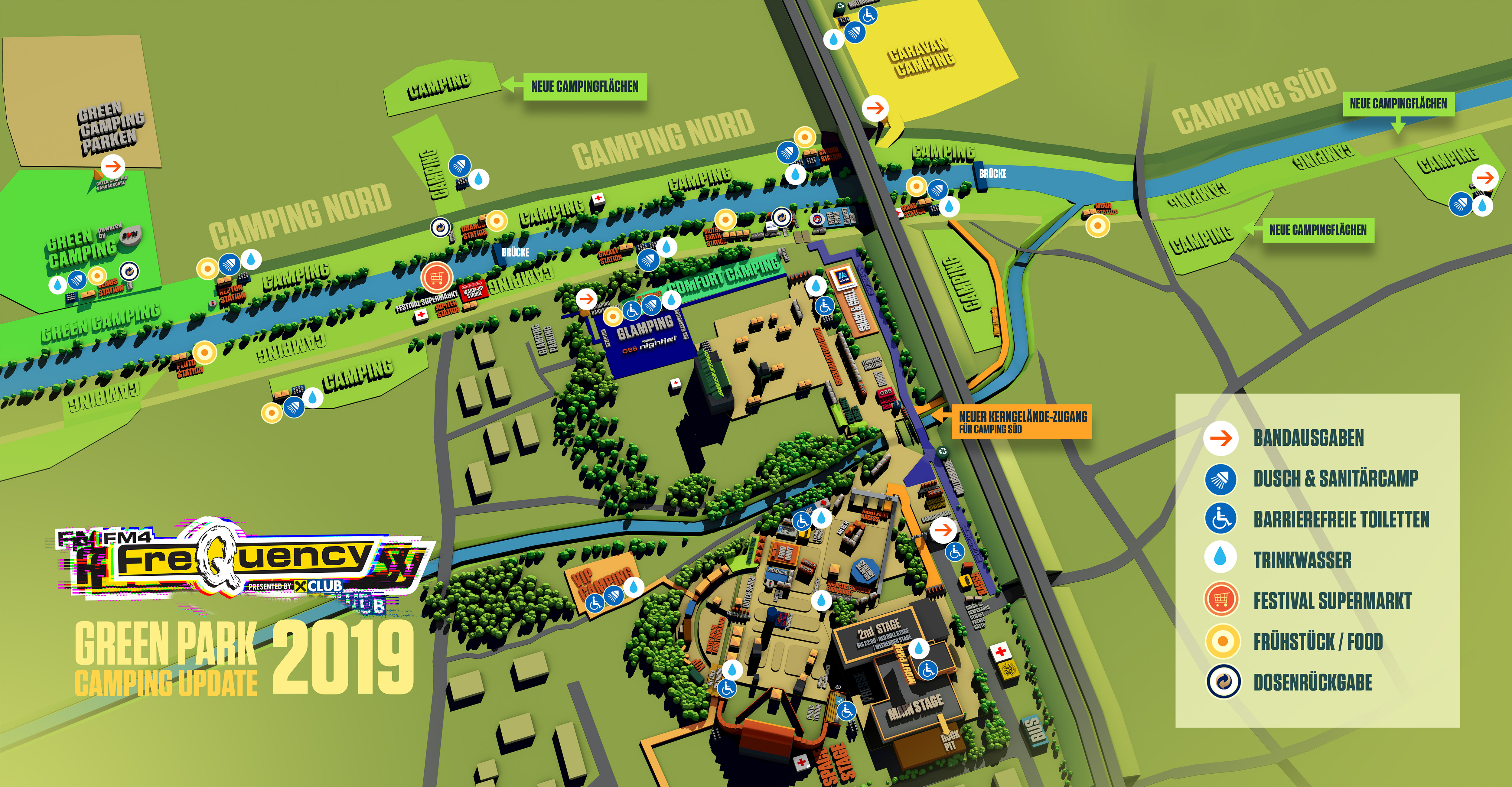 Main Area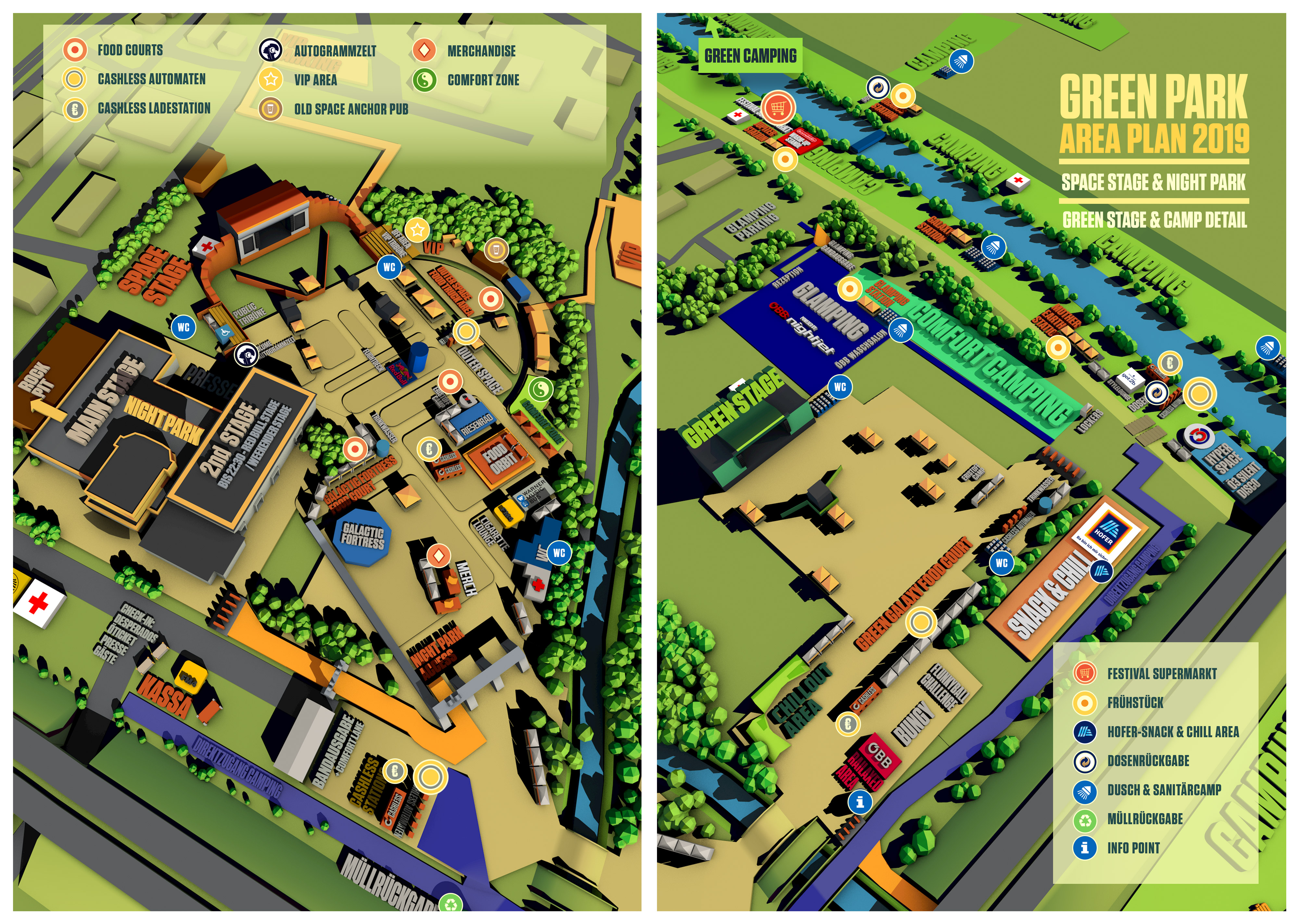 The FM4 Frequency Festival area is located  in the heart of St. Pölten and offers you two different main areas (Day- and Nightpark). Besides these main concert areas, you can hang out at the beautiful riverside or participate at one of the many side actions (DJ Lines, workshops, Secret Shows, etc.).
These are only a few reasons why we are back again in St. Pölten this year! Since 2014 the Green Park St. Pölten is our festival home base. To protect this beautiful environment, we created a special waste and environmental concept. During the festival almost 250,000 empty cans were collected at the return / exchange booths. Our clean and more quiet area called Green Camping Area has become a fix part of the Festival. The concept will of course be improved every year! More info about our green concept can be found at the green section on our homepage.

VIP / BFF Festivalpass
VIP FESTIVAL PASS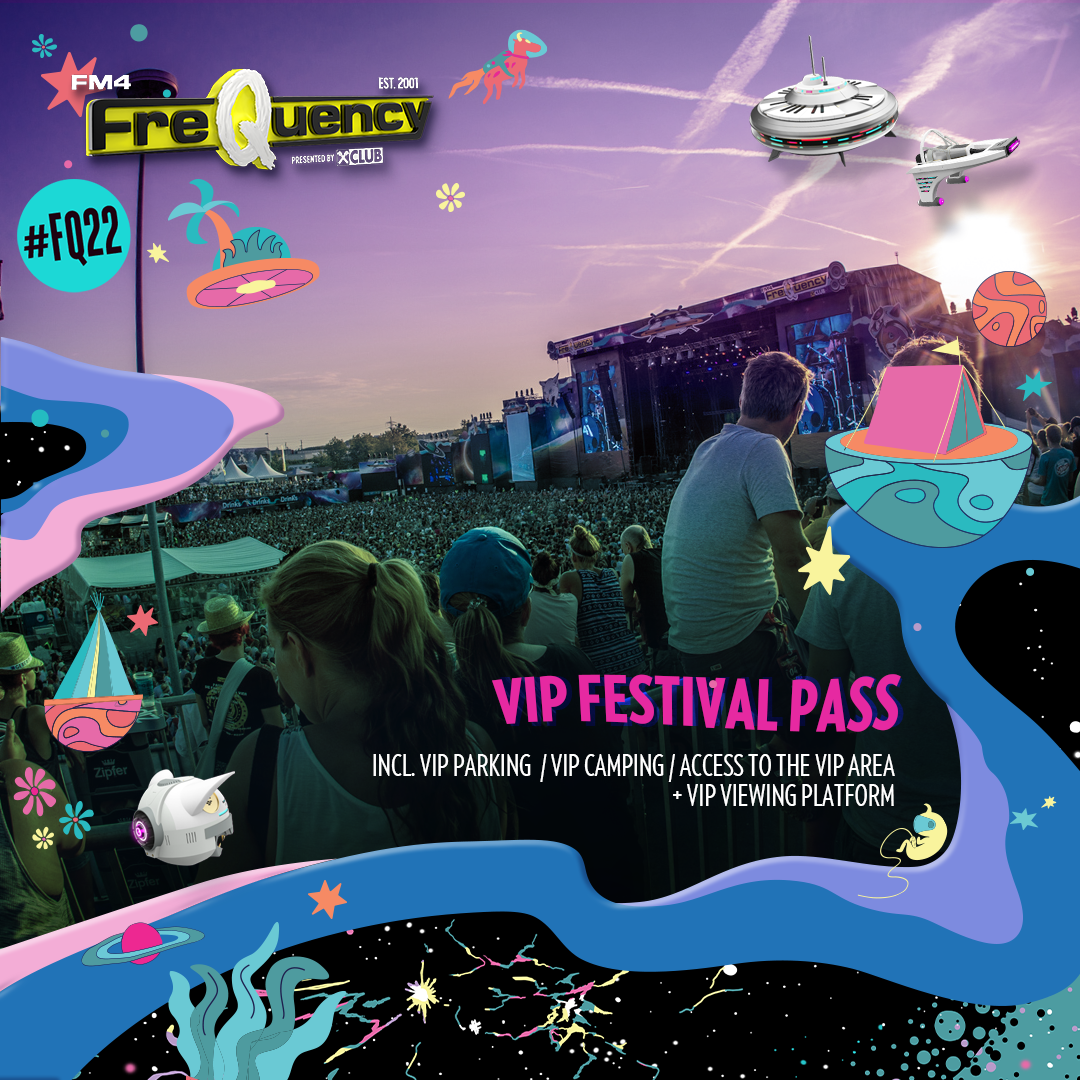 A VIP festival pass includes a 3-day festival pass as well as access to the VIP area. This area is located right next to the Space Stage and offers you a luxury toilet facility, a VIP bar and a VIP viewing platform with a great view of the stage. In addition, the VIP Festival Pass includes a VIP parking lot near the main entrance and a VIP campsite, which is located directly behind the main festival area.
VIP Fact Sheet:
Valid for all 3 festival days (18.08. – 20.08.2022)
Access to all stages
Access to the VIP area/VIP viewing platform
incl. VIP camping
incl. VIP parking (close to the entrance)
no food or drinks included
Click HERE to get your tickets.
——————————
BFF FESTIVAL PASS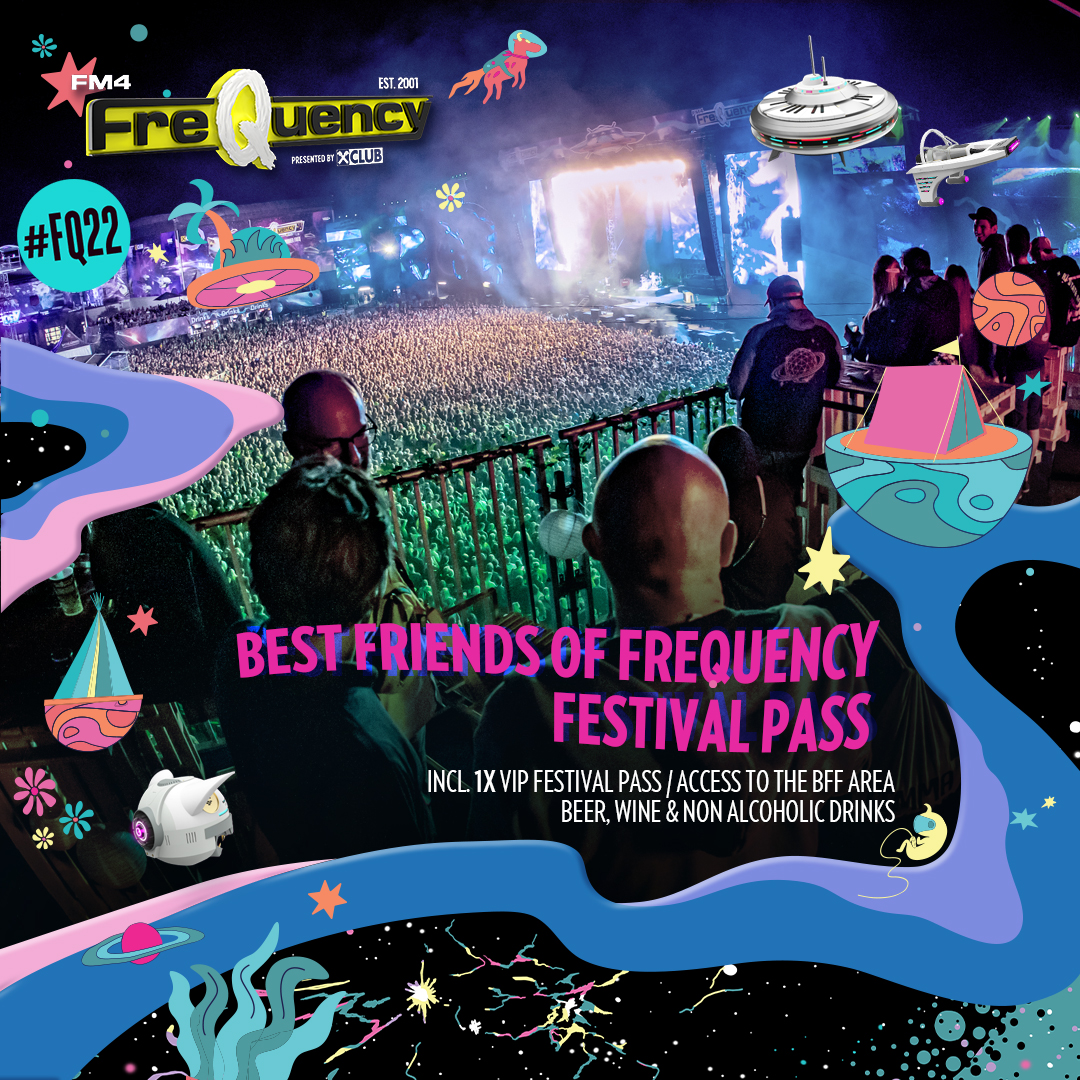 The Best Friends Of Frequency festival pass is the most comfortable way to spend your time at Frequency Festival and includes not only all the benefits of the VIP festival pass (see information above), but access to an exclusive covered area above the VIP viewing platform. This area is equipped with comfortable seating, its own cashless station and table service that provides you with free beer, wine and non-alcoholic drinks.
BFF Fact Sheet:
incl. beer, wine & nonalcoholic drinks (No Liquor)
Sheltered, exclusive area on top of the normal VIP platform
incl. 3 Day VIP festival pass (18.08 .- 20.08.2022)

VIP Camping
VIP Parking (near the entrance)

table service
Own cashless station
Cozy seating
Click HERE to get your tickets.
——————————
Travel Info

TRAIN
At oebb.at you will find all train connections to St.Pölten (main station). Trains between Westbahnhof Vienna and St. Pölten run every 30 min one ride will take you about 30 min. Arriving at the train station in St. Pölten, the frequency SHUTTLE BUS will bring you to the festival venue for a fee of 7 euros (for unlimited travels between the train station and the festival area).
After the last concerts the special trains of the ÖBB will bring you back to Vienna, Linz, Salzburg & Innsbruck (including stops in smaller cities). The special train timetable can be found HERE.
SHUTTLE BUS

(trainstation St. Pölten – Green Camping – Main Entrance)
Arriving at the train station in St. Pölten, the Frequency shuttle bus will bring you to the Green Camping area for 7 euros (for unlimited travel between the station and the festival area) and then to the main festival entrance.
Timetable:
Wednesday 08:00 am until 11:00 pm
Thursday 08:00 am until 02:00 am
Friday 10:00 am until 02:00 am
Saturday 10:00 am until 02:00 am
Sunday 06:00 am until 02:00 pm
Please be aware that there will be no shuttle busses on Tuesday for early camping. But you can take the public bus to the station "Kelsengasse". From there you just have to walk about 5 minutes to get to the main entrance.
CAR
The site is located in the Lower Austrian capital St. Pölten. Compared to last year, there will be some new parking lots  in the eastern part of the area. So we strongly recommend you to use the motorway exit St. Pölten Ost (east), which you can reach via the west motorway A1 and the S33.
We would like to point out that there is no access to the campground via the Landsberger Street. So it makes no sense to park in the residential areas.
For a good cooperation with the locals we ask you, to keep up the driving and stopping prohibitions and please you to place your vehicle only in the areas designated as parking lot!
Please accept the local traffic rules, especially in the area of parking. In order to offer you a safe festival, we dependent on rescue and care facilities and free ways for them. If do not accept, vehicles will be towed rigorously. The same applies if you interfere with your car traffic or other road users. No liability is given for damages, injuries and theft in the parking slots.
DRIVING COMMUNITIES / CARPOOL

All those who are looking for a ride to the # FQ19 or have a place in the car should join our official Facebook group. Here you can find the group.